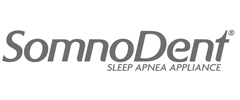 SomnoDent® is a custom-made device worn during sleep to increase the upper airway volume and reduce collapsibility. SomnoDent® Flex & Classic devices each utilize a unique fin coupling component, maximizing patient comfort and compliance.
Health benefits
SomnoDent® treatment has also been shown to have a clinically significant impact in reducing patients' blood pressure and has been predicted to reduce the risk of stroke. In addition, this blood pressure reduction was apparent in the early morning, which is the time of peak risk for acute myocardial infarction.
Clinically proven

14 independent studies and over 12 years' worth of research demonstrate SomnoDent efficacy and significant clinical benefits. Exceptional levels of compliance 88%, treatment efficacy 91% and acceptance 96% of patients with obstructive sleep apnea (OSA) have been cited.
Health outcomes
In 2011, a randomized multi-center trial with 108 patients concluded that treatment of moderate-severe OSA with either CPAP or SomnoDent® has similar effects on health outcomes.
SomnoDentFlex®
SomnoDent Flex is made with unique SMH BFlex material, Flex has a soft inner liner which maintains retention and offers premium patient comfort
Device retention is critical to effective treatment
Drop in fit – even for patients with short teeth, little undercut or crown/bridge work
Reduced chair time due to minimal adjustments
96% of patients with proven OSA state they would like to continue using SomnoDent